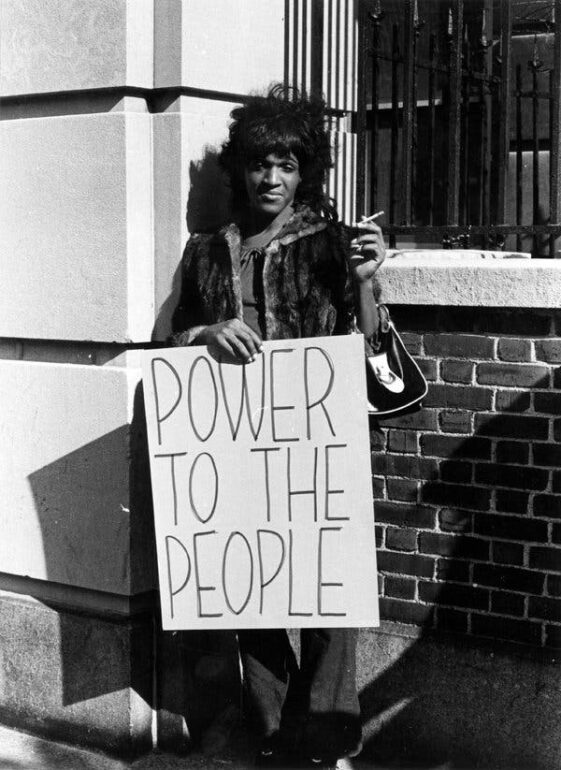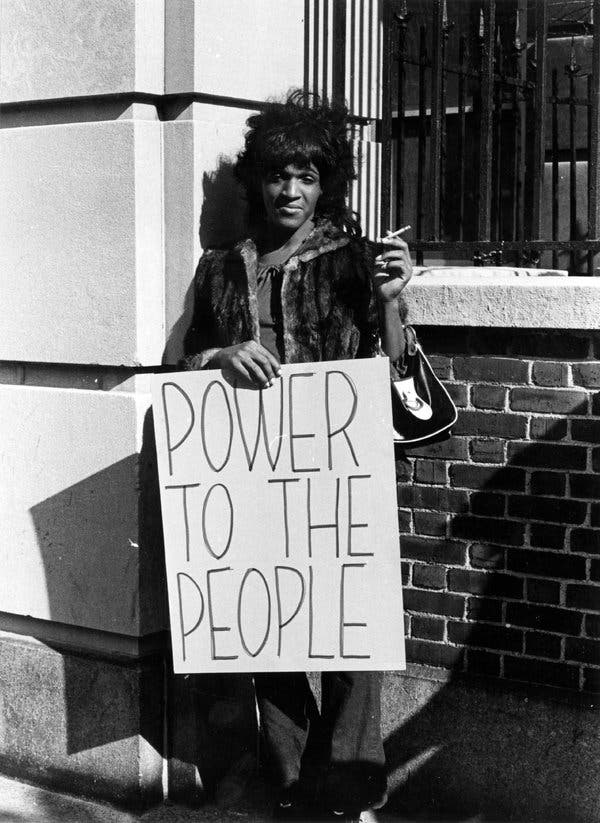 Activists are driven individuals who fight for a cause they find themselves passionate about. Activists are not always in plain sight and could easily be your neighbor or high school friend. Their passion can be seen in how they fight for a cause and the sincerity in their fight. In this blog, we will explore the life and work of Marsha P. Johnson. A case will be made why Johnson is an activist and hero whose story should be told.
I selected Marsha P. Johnson for this assignment because for me her story is only the beginning. As an activist myself, I often like to know who started the movements for the things that I am passionate about and advocate for. As a member of the LGBTQ+ community, it was a cause for celebration when we were granted the rights to same-sex marriage in 2015. We now fight for the rights of our transgender community as both women and men are still seeking equal rights. While the battle for the LGBTQ+ community is far from over, the start can often be attributed to the Stonewall Riots. While Marsha P. Johnson denied being the person who initiated the riots, the tales continue as she was a well-known advocate and familiar face that was at the Riots.
Marsha P Johnson was born the fifth of seven children on Aug. 24, 1945. Her birth name, also known in today's age as a dead name, was Malcolm Michaels Jr. She was raised in an Episcopal church and later began to explore Catholicism. In her childhood, she was known to wear dresses at the age of five and only refrained to avoid neighborhood bullying. After graduating in 1963, she moved to New York City with only $15 to her name and a bag of clothes.
Life in New York City was not easy, especially for those living outside of the gender norm. Johnson was homeless most of her adult life. Johnson was a drag queen who often used she/her pronouns, described herself as gay, and was known to label herself a transvestite. The term transgender was not popular during her time. Johnson was known to do her transformation from male to female on her train rides. Being honest and living her life out loud for all to see she was a target. She was a sex worker and would find herself arrested, or beaten, and even thrown in the Hudson River but would come back each time stronger and just a polite and loving as before. Her spirits were hard to break despite the discrimination she faced. Johnson stated that she was no one until she was a drag queen and started living her truth. She wanted to go to Sweden to undergo gender-affirmation surgery.
Trans women find sex work to be beneficial for multiple reasons. While it certainly helps pay the bills, it also assists them with medical payments for things such as hormone therapy and gender-affirmation surgery. By doing sex work, people like Marsha P Johnson created bonds with others who were just like her such as Sylvia Rivera. This work provides them with a social life and a level of comfort where they can freely express themselves without fear of extreme prejudice.
Marsha P Johnson also known as Marsha "Pay It No Mind" Johnson was referred to as 'Saint Marsha' due to being a genuinely loving, generous person, and all-around good human being. She was seen as a drag mother to the youth, especially the transgender youth. Her personality was known to be larger than life much like her sense of fashion. She was a warm and friendly face to those who looked up to her in the LGBTQ+ community.
Marsha Johnson was attributed to the start of the Stonewall Riots. It was stated that she threw a shot glass into a mirror and that was what sparked the riots that led to a revolution. She became the face of the Stonewall Riots and the face of gay rights activism. Before she passed, she did innovative work with the youth misplaced from their home for not conforming to gender norms. She founded STAR, Street Transvestite Action Revolutionaries to help the LGBTQ+ community in hopes of liberation and equal rights. As well as advocating for those who contracted AIDS, which she too had contracted. She passed away in 1992 as her body was discovered in the Hudson River on July 6th. While her death was initially ruled a suicide it was later reclassified that she drowned of undetermined causes in 2012 after many advocated for her death to be reexamined.
Conclusion
While Marsha P. Johnson's true cause of death may never be known, her life is a legacy that she left behind. The outspoken, bright, colorful, and generous person Johnson has left a mark behind on everyone who knew her or reads her story. While she went to her grave denying she started the Stonewall Riots, she was the public figure for what happened. Despite the riots, she still did other work within her community by starting STAR and advocating for those who contracted the AIDS virus during its peak. While she died before she could see the ripple effect her activism had started, she was a spark that ignited a community.
References
Hobson, J. (Year Published). The Routledge Companion to Black Women's Cultural Histories. Routledge. Retrieved from: https://books.google.com/books?id=ijAXEAAAQBAJ&lpg=PT270&ots=up5yCe2aXK&dq=marsha%20p%20johnson%20stonewall&lr&pg=PT20#v=onepage&q&f=false
Born, T. (n.d.). Marsha "Pay it no Mind" Johnson. Outhistory it's About Time. Retrieved from: https://www.outhistory.org/exhibits/show/tgi-bios/marsha-p-johnson%20
Chan, S. (2018, March 8). Marsha P. Johnson A transgender pioneer and activist who was a fixture of Greenwich Village Street life. The New York Times. Retrieved from: https://www.nytimes.com/interactive/2018/obituaries/overlooked-marsha-p-johnson.html
Gender and Social Change. (2020). Benefits of Sex Work. Retrieved from: http://gender-and-social-change.org/s/omeka/page/benefits